Lego replaces British chief after just eight months at helm
Lego has replaced its British chief executive, the first non-Danish person to run the toy company, after just eight months, saying that at the age of 61 he was never expected to be in the position long-term.
The toymaker said Bali Padda would make way for Niels Christiansen, a 51-year-old former chief executive of Danfoss, a Danish manufacturing and technology company.
Lego's chairman, Jørgen Vig Knudstorp, who was chief executive for 12 years until December, said the move was not down to Padda's performance but because it had always been understood he would only do the job for a few years at most because of his age.
Under Knudstorp, Lego enjoyed a decade of growth, tying up with movie franchises such as Star Wars, Harry Potter and Indiana Jones in deals spanning Lego sets, video games, movie franchises and smartphone applications. The success story continued with the launch of The Lego Movie in 2014.
But while Lego now vies with the Barbie doll maker Mattel to be the world's largest toy manufacturer, revenue growth slowed from 25% in 2015 to just 6% last year – the lowest annual increase in nine years – with sales of 37.9bn Danish krone (£4.6bn).
A spokesman for the maker of plastic bricks said it had been a mutual understanding from the outset between the company and Padda, who has worked for Lego for 15 years. "He wasn't in a position in his life to be in the role for a long time. It might have been five years but it wouldn't have been 10 years. We found the right person faster than expected … it is not related at all to the performance of the company."
Padda, who joined Lego in 2002 and was part of the senior management team through its years of rapid growth, will remain in the top job until 1 October, when Christiansen takes over, and will stay on at the family-owned company in an advisory role. Punjab-born Padda moved to the UK with his parents as a child.
He said: "To me it has been an honour to be part of the Lego group for 15 years in all the different roles I have had – and I feel privileged to have worked with so many wonderful, talented people.
Knudstorp said: "Bali has been part of the Lego group family for the past 15 years. He played an integral role in its turnaround and during his time as chief executive he created a solid foundation from which to continue to transform the company. He is a great friend and a wonderful ambassador for the brand."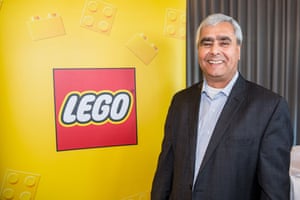 The company is based in Billund, Denmark, and was founded by Ole Kirk Christiansen, a master carpenter, in 1932. The first toy was a wooden duck, and it proved such a big hit he focused entirely on making toys using the brand name Lego, derived from the Danish phrase leg godt, meaning "play well".

The first Lego piece rolled off the production line in 1949 and the company started exporting in 1956. The toy bricks are now sold in more than 130 countries, with China earmarked as a target for major growth. The company is still controlled by the founding Kristensen family, which has a 75% stake.
Between 1932 and 1998, Lego never posted a loss. But by 2003 it was in trouble, with sales down 30% year on year and $800m (then £480m) of debt. Knudstorp led the turnaround, which included selling the company's controlling stakes in its Legoland theme parks, expanding its franchise deals with Lego sets based on Hollywood films such as Star Wars, and introducing the Lego Friends range aimed at girls.
Melissa Symonds, a director at the consumer research group NPD, said Lego had stood the test of time because of its broad appeal. "Lego has appeal for all ages and genders, with the versatility of the little brick allowing endless variations of play," she said.
Lego's Batman Movie MiniFigures is the bestselling toy so far in 2017, according to NPD analysis.
The toymaker announced in December it would raise prices in the UK by 5% in 2017, in response to the sharp drop in the value of the pound since the Brexit vote.
Danny Cox, analyst at Hargreaves Lansdown, said changes in management at any company could be challenging. "Businesses need to operate with stable management teams and low turnover in the board room, as leadership change is unsettling even when smooth and pre-planned," he said. "To go through this process many times in short order becomes a greater challenge as teams take time to adapt to changes in senior personnel, their style and vision – and ultimately this can impact on performance."

https://www.theguardian.com/business/2017/aug/10/lego-bali-padda-british-niels-christiansen


(0)