Greens say they could support Gonski 2.0 and attack Labor for politicising funding – politics live
Good morning blogan people,
Zero degrees at Canberra airport, pea soup fog, farnarkling clearing later in the day. Today is Gonski 2.0 day. Today we expect a vote in the Senate. More of that in a moment.
First let me catch you up on the overnight happenings.
The LNP MP George Christensen crossed the floor on penalty rates, so you know he will cross the floor.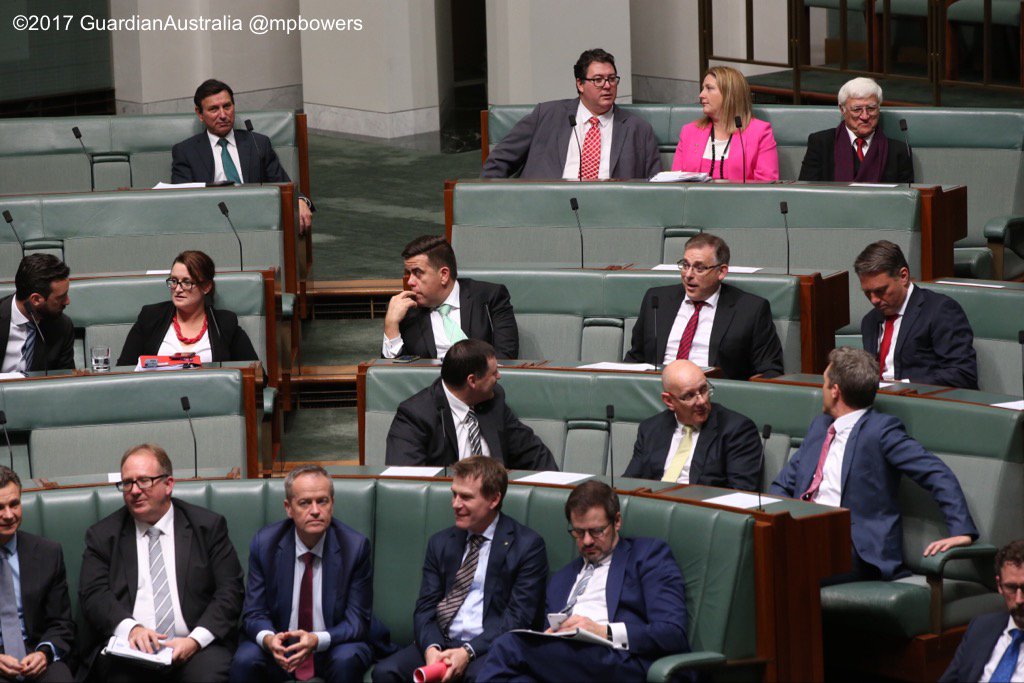 The vote failed, as Murphy reported:
So Christensen could make his point without anything much changing.
The chief scientist, Alan Finkel, is speaking at the National Press Club today. I guess when it was booked, his key recommendation of a clean energy target was a thing. But it is looking less like a thing with every day that passes. It seems like coal is still a thing in the Coalition party room. The lot of the chief scientist.
Yesterday Turnbull was counselling Murph not to be hasty.



But he denied his new brief for Aemo was a clear signal the government had either dumped, or was paving the way to dump Finkel's clean energy target.

"I wouldn't analyse it in that way if I was you," the prime minister said.
Paul Karp reports the energy and environment minister, Josh Frydenberg, has been speaking on ABC AM about new measures to lower gas prices such as forcing gas companies to supply the domestic market and unilaterally abolishing the limited merits review accused of raising prices.
Asked if the reason the government is leaving open the possibility of financing new coal power plants is to appease conservative MPs, Frydenberg replied:



No it's not, it's designed to ensure Australians have reliable affordable power, in particular having dispatchable baseload power … We will take an all-of-the-above approach: now, it could be coal, it could be gas, it could be renewables with storage, or it could be a combination of both [that the government supports]. But we are determined to ensure in this brave new world we don't leave it to chance, we can't afford to go forward without dispatchable baseload power.
Now to Gonski 2.0. The school funding bill for the 2018 school year will hit the Senate today, with no definitive signal yet from either the Greens or the crossbenchers on whether they will support. Those two paths are the only way to get the bill passed, after Labor ruled out needs-based funding on the basis that the dollar amount was not as high as they would like.
Di Natale has just spoken to Fran Kelly about the phone hook up with the national council. Their message:



They want us to put kids before politics.
The Greens want a fast-tracking of funding, higher funding, an independent funding body, states forced to keep their funding in schools and the NT package.



It is true the government has gone back to the drawing board and they have shifted a long way, a long way …

If we get the architecture right and then we are satisfied that we've got some serious funding going into the model, then of course we would be prepared to support it. The government still has some way to go on that.
Di Natale put the prospect, commonly used, that if the funding architecture for a needs-based consistent funding formula is in place, Labor can ramp up the funding.



If we get the architecture right, the good news is that if Labor is elected we can work together to put more money into the system and know that it goes to the neediest public school.
Di Natale said he was working very closely with the Australian Education Union, which represents 170,000 teachers and educators. He says he was not aware of reports that AEU reps were threatening to campaign against South Australian Greens if they help pass Gonski 2.0.



We are satisfied that if we address those issues … that it would be very difficult for anyone who has the best interests of children in this debate to do anything other than support a model that makes sure kids in our neediest public schools get the support they deserve.
He says he was "staggered" Labor would take decision not to support a bill that increased funding and improved the model.



I'm staggered that the Labor party have decided that they would rather campaign on education, make it a political issue, rather than take the opportunity to address the flawed funding model they put in place. What the education union will do is ultimately a question for them.
Di Natale said he would not support any delays for the Catholic system for a review – something favoured by WA Liberal Chris Back – as the problem with Labor model is it was not sector blind. It had carve outs for the Catholic system, he said.
Apologies for the War and Peace post, talk to me on the thread, in the Twits @gabriellechan or Facebook.
https://www.theguardian.com/australia-news/live/2017/jun/21/australia-politics-live-turnbull-shorten


(17)