Boldness is needed if women's football in England is to fulfil its potential | Suzanne Wrack
It was impossible not to be inspired by the fight of the England Lionesses in Euro 2017. From the grit against possession-heavy France and Spain, to the goalscoring heroics of golden boot winner Jodie Taylor. The huge disappointment that Mark Sampson's side did not come home clasping silverware, as the highest-ranked side left in play at the penultimate round, is balanced by pride in England's second consecutive semi-final at a major tournament. That pride is easy, this team feels like a side not far off making that crucial final leap.
With investment and participation on the up, FA commitment to further growth, and clubs seeing both the financial and social benefits of thriving women's teams, we can rightfully be hopeful that these factors will yield greater success on the pitch in years to come. At present, few, if any, England internationals have played professionally for the entirety of their career. With professionalisation increasing across the Women's Super League — with some exceptions illustrating that it's not all plain sailing; Sunderland recently reverted to part-time status — we are heading towards a new era for women's football in England. One where young girls will be able to aspire to play professionally from and young age, and do it. With their pathway through to the national senior side now mapped out by thriving youth teams, there is a bigger pool of talent to pick from.
England's success at this tournament will have undoubtedly boosted interest women's football in the country on a number of fronts. Four million tuned into Channel 4 to watch their semi-final exit (not including those watching on Eurosport). This was a team that galvanised the support at home. Of those millions watching, there will be girls who will now step outside with a ball at their feet for the first time. The effect on young girls, and boys, of seeing women sweat, run, jump and fight can't be underestimated.
When former England cricketer Paul Collingwood tweeted after the Women's Cricket World Cup win "I've been trying for years and today finally my daughters want to play cricket! Thank you @englandcricket women, inspirational #WCWinners," I did an internal fist pump. Being a three-times Ashes winner didn't inspire his daughters to pick up a bat, it was watching the women. How the momentum, that these pioneering women footballers have busted a gut to build, is capitalised on will be crucial to the development of women's football. It's something the FA admit to being caught off guard by after the 2015 Women's World Cup. Since then, they've been working to make sure the fruits of further tournament success is harvested fully. Translating the support and interest in the Lionesses this summer into bums on seats at league matches will be a crucial and tough test. Boldness is needed.
The FA has announced that England will open their 2019 World Cup qualifying campaign at Tranmere Rovers's Prenton Park on 19 September, before heading to Colchester United where they will play Kazakhstan on 28 November. It's hard not to think that the opportunity to use these games to maintain the Lionesses profile between major tournaments is being lost. While they most likely would not fill a Premier League ground, not being given the chance to do so feels safe. When the attendance figures for those games roll in they won't be a true litmus test of the ability of the women to pull a crowd.
Tuesday night games, the latter deep in Essex, do not provide the profile, or make logistical sense for fans. Put them in a top six stadium or even Wembley, host them on weekends or at half term, build hype, sell kids for a quid tickets, giveaway tickets to schools, and really use these games to promote the game. Do not shy away for fear of half-full grounds, financial risks or logistical complications. Broadcasters also need to step up and promote and air these competitive matches that have the ability to create a following before a ball is kicked in France in two years' time.
In recent years the growth of women's football has been steady, but incremental. Attendances have crept up, participation has risen. For World Cup hosts Canada, Euro 2013 hosts Sweden, the Netherlands, and others, hosting a major competition has provided a qualitative boost to women's football in those countries.
It is this qualitative leap that feels needed to stop the steady steps forward of English football from becoming routine. And if this tournament demonstrates anything, it is that it's time England bid for a major championship. The Netherlands success at going all the way, a team ranked 12th in the world and one which had only won two previous European Championship games, does not directly correlate to their hosting of this tournament. However with 54% of teams that have hosted the European Championship finals reaching the final, and there being only three occasions when the home nation has not made at least the semi-finals it's clear there is a statistical home advantage. Obviously being the home nation also adds its own pressures. However the public response to the Oranje Leeuwinnen seemed to be on a scale not seen before.
The fan walks to grounds were turned into rivers of orange in Dutch streets before games, every Holland match sold out and TV audiences there reached record levels. Vibrant skilful attacking football lit up the competition from the get go and a staggering 5.4 million watched the thrilling final across all channels showing it in the Netherlands (approximately 85% market share). Regardless of how far a home tournament can change things on the pitch, what is guaranteed is that hosting a major tournament will propel the growth of women's football in said country. This will be boosted further with a good showing by the host nation.
It is easy to predict that growth will result from host status, but the stats back it up too. Following the announcement of their successful bid, player registration in Sweden grew by 33% to 159,305 in 2012-13, the season which preceded their home European Championship. This rose to 165,259 following the 2013 tournament and Sweden continues to be a leading country on participation and registration of women footballers today with 179,050 on the national association books. In addition, attendances at Sweden's national team matches grew by 57% in the 2014-15 post-Euro 2013 season. Already the signs are good for the Netherlands. Since the announcement of the 2017 hosts in the 2013-14 season, player registration has increased by 10% in just two and a half seasons. More notably, the Netherland's, despite their small population, are comfortably the third largest Uefa nation in this category. And while still low in the grande scheme of things, their average attendances have also more than doubled in three years to 5,878 in 2016-17.
The Lionesses have been exemplary professionals on and off the pitch. England have the one of the best women's leagues in the world. England employs 51 women at senior managerial level or above and have 44 dedicated England staff working in women's football. The arrival of big name stars — Heather O'Reilly, Carla Lloyd, Crystal Dunn et al — from the US, shows the progress that WSL teams have made in recent years. Six of Holland's title winning squad ply their trade across the channel.
England have never hosted a women's World Cup. The FA hosted the 2005 Euros, but the competition was a much smaller beast with just eight teams competing. Even then, over 29,000 attended England's group opener at the City of Manchester stadium and a total of 117,384 attended the 15 matches in the tournament as a whole.
France host the 2019 World Cup. Beyond that, where these increasingly popular and lucrative tournaments set their temporary roots is yet to be decided. Australia — whose national team is thriving — is the only team to officially throw their hat into the ring for the 2023 World Cup, having launched an audacious and well-funded bid. With confidence high, it seems like a question of when, not if, the FA will bid to bring one of the two major tournaments to their shores. It's time.
Talking points
• Uefa announced their Team of the Tournament following the Euro 2017 final. England's Lucy Bronze, Steph Houghton and golden boot winner Jodie Taylor all made the best XI which also included: Sari van Veenendaal, Anouk Dekker, Jackie Groenen, Sherida Spitse and Lieke Martens from the Netherlands, Austria's Verena Aschauer and Denmark's Theresa Nielson and Pernille Harder. Martens was also named Player of the Tournament.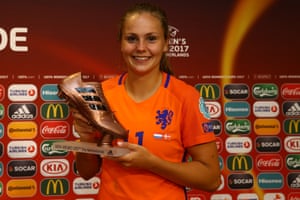 • The FA Women's Super League fixtures were released on Monday morning. Starting on September 24, WSL debutants Everton host Liverpool in the first Merseyside derby of the WSL1 season. Arsenal welcome FA Cup runners-up Birmingham. Hope Powell's first game in charge at WSL2 newbies Brighton & Hove Albion sees them travelling to Aston Villa. Other opening fixtures: WSL1 Chelsea v Bristol City, Reading v Sunderland, Yeovil Town v Manchester City.
And in WSL2 we have Durham v Tottenham, London Bees v Doncaster Belles, Millwall Lionesses v Watford, Oxford United v Sheffield. The full season's fixtures are here.
• Ireland's most-capped international Emma Byrne has announced her retirement at 38. The goalkeeper has represented Ireland 134 times having made her debut as a 16-year-old in 1996. Byrne spent 16 years at Arsenal and won 11 league title, 10 FA Cups and the Champions League in a trophy-laden career.
• Australia won the inaugural US-hosted Tournament of Nations beating the US, Japan, then Brazil to establish a 100% record. Solid defensively and clinical going forward, the Australians are the in-form national team outside of Europe. Star striker Sam Kerr, who has 22 goals in 33 games for Sky Blue since her move stateside, bagged four goals to finish as the tournament's top scorer.
(2)